Point of Sale with Cloud Back Office
Both for multi-national chains and small, classy, one-off bistros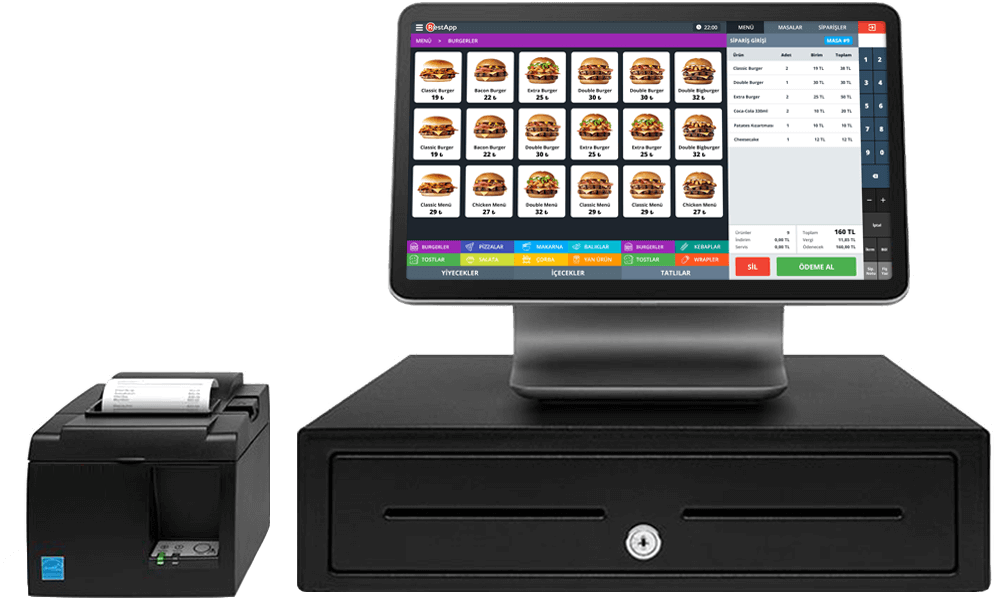 Cloud-based Point of Sale
RestApp EPOS is an easy-to-use sales automation system that combines the next generation of cloud POS flexibility with native POS stability and reliability.
RestApp EPOS offers the best price model for your self-service, collection and table service operations. It provides solutions to all needs of the enterprises at any scale, from chain businesses to single branch locations. RestApp is the most stable EPOS system that can work both online and offline.
Cloud-based back office management of RestApp allows you to easily manage your business from anywhere, anytime, and control the consistency of products and prices across your branches.
You can easily manage all branches remotely. The central customer database for all branches, central loyalty, personnel management and special offer programs at your hands.
Discover Cloud Back Office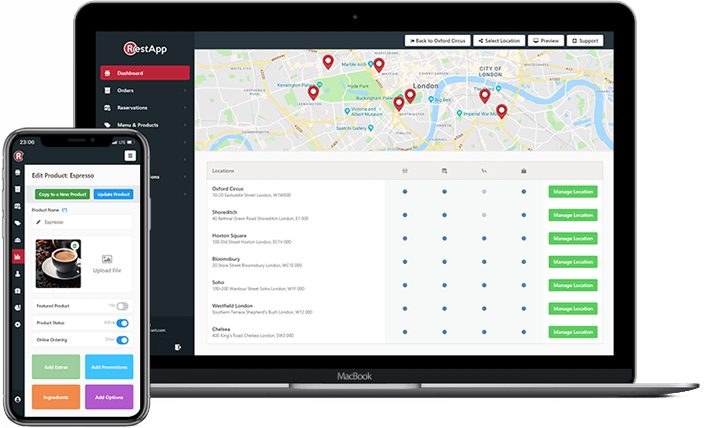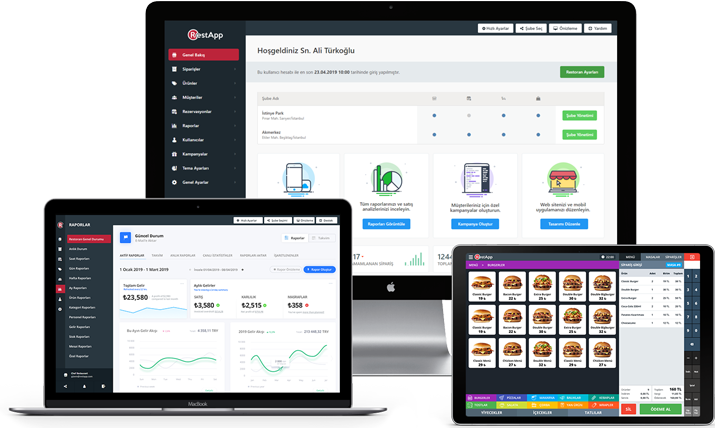 User Friendly & Intuitive
With RestApp's user-friendly interface, anyone can start using it in minutes without extensive training. It will only take minutes for your new staff to adapt.
You can easily manage your business, wherever you are, and view reports instantly and periodically as you wish.
Detailed Reports and Analysis
Analyze and grow your business easier. RestApp gives you the most clear reports with all details, so you can make the most accurate decisions.
You can view product, sales, stock, user, customer, region, cash and payment reports on year, month, week, day, hour basis at any time and follow the instant status of your branches.
Discover Reports on Cloud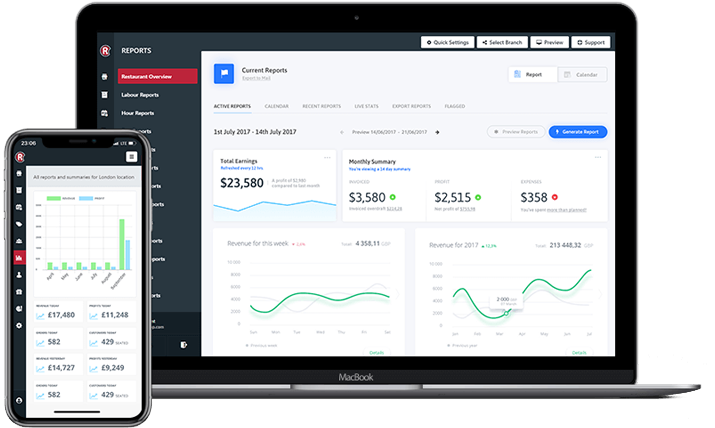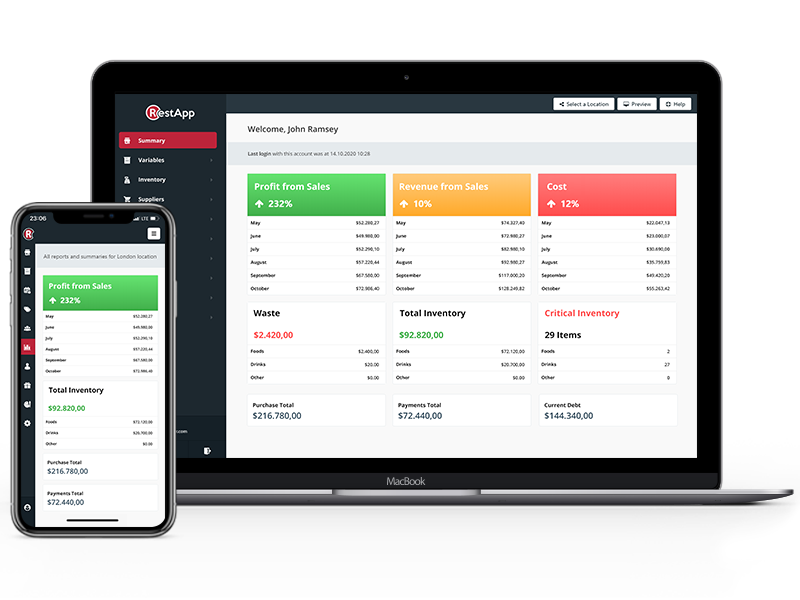 Inventory & Recipe Management
With RestApp cloud-based inventory management system, you can keep your business costs under control and increase your profitability.
You can create recipes, track your unit-based inventory, match your recipes with your products and track your stock and cost more efficiently. You can maintain your profitability by pricing your products according to their costs.
Discover Inventory & Recipe Management
Customer Loyalty Programs
Get to know your customers better with the loyalty system and increase their loyalty by offering small gifts, points and discounts according to their habits.
Increase customer loyalty by more accurate analysis of your customers behavior. Segment your customers and create on point campaigns. Use the right data to sell to the right customer at the right time.
Discover Promotions and Loyalty Programs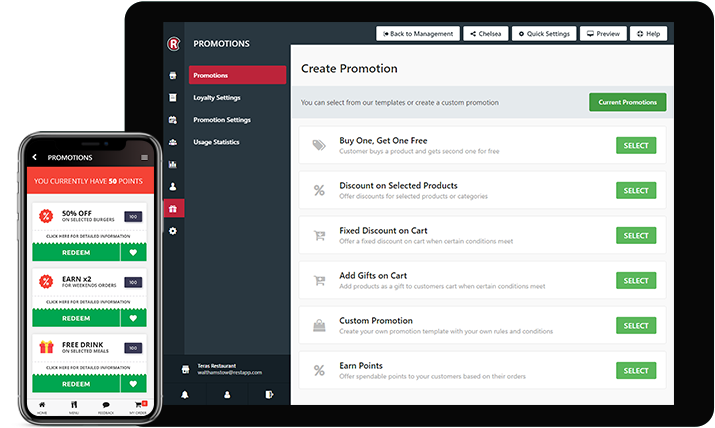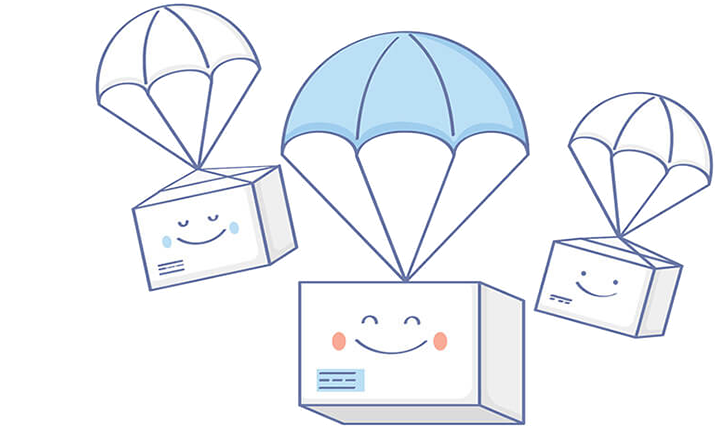 You don't need to invest in an infrastructure to use RestApp EPOS. License fees adjust according to your needs and the modules you need to use, which are budget friendly.
No hidden fees such as annual maintenance fee or support fee. Pay as much as you use, 24/7 support is provided free of charge.
EPOS Pricing Plans
You can contact our support team any time you need. We are ready to help you at any time to ensure that your operation is uninterrupted and as fast as you expected it to be.
All RestApp solutions come with free training at your site. You can reach our customer support department by phone, WhatsApp or e-mail 24/7 and get technical support.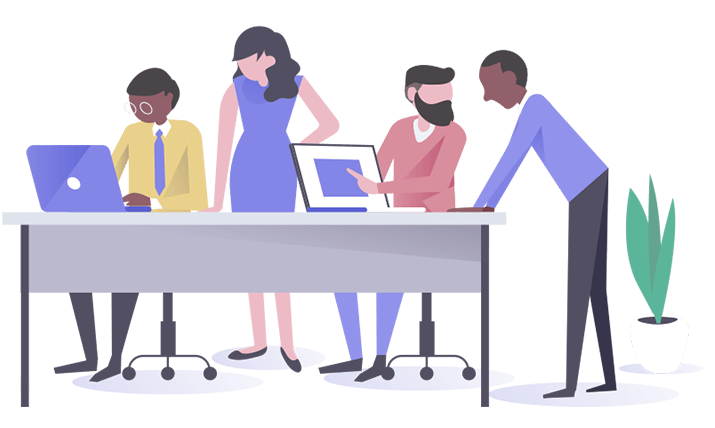 Everything you can ask for
Some of the key features that makes our EPOS system perfect fit for all sizes of food & beverage operations.
Point of Sale
Point of Sale for all kinds of businesses
Multi Location
Manage all locations from one dashboard
Quick Service & Dine-In
Point of Sale for all service types
Staff Management
Create users and assign custom roles
Expenses
Easily keep an eye on your expenses
Reports & Analytics
Cloud based reports and detailed insights
Kitchen Display System
Track your orders over screen at kitchen
Product Modifiers
Easy to use, flexible product modifiers
Ingredients
Create ingredients for your products
Reservation Management
Receive and manage your reservations
Loyalty & Rewards
Offer loyalty rewards to your customers
Caller-ID
Integrate your caller-id for delivery orders
Check Split & Move
You can easily split or move checks
Table Transfer & Join
You can easily transfer or join tables
Split Payments
You can split payments to different methods
API Integration
Integrate orders with 3rd party apps
Discover Online Ordering
Also need an online ordering system for your restaurant to receive online food orders? Check out our Online Ordering features to take online orders without any commissions.
Want to know more about Cloud based Point of Sale?
We are ready to offer the best tools for success of your business. Get in touch with us now for your questions.
Talk with us