Digital Menu with QR Code for Restaurants
Improve ordering experience with mobile ordering.
Faster Dine-in Ordering Experience
Contactless dining experience with QR code
Guests can place orders and pay their bills with their smart phones by scanning a QR. Receive orders from your guests without a waiter.
Check out live E-Menu demo
Easy to Manage
Create and modify your products so easily
Easy to Use
Customers can easily place their orders
Digital Menu
Offer interactive menu to your guests
Unlimited Possibilities
Have a complicated menu? No worries!
Your Brand
Mobile e-menu with your own brand
Suggestions
Suggest products based on customers orders
Feedbacks
Your guests can leave feedbacks easily
Online Payment
Customers can pay for their bills online
Better Menu Experience
Create your interactive menu & drive more orders
A modern menu and detailed content will improve your guests decision making process, and drive more orders from them.
Create your menu in many different languages
Display specific products for specific days or times
Display preparation time, allergen and calorie details
Create all product ingredients and custom modifiers
Suggest products to your guests while placing an order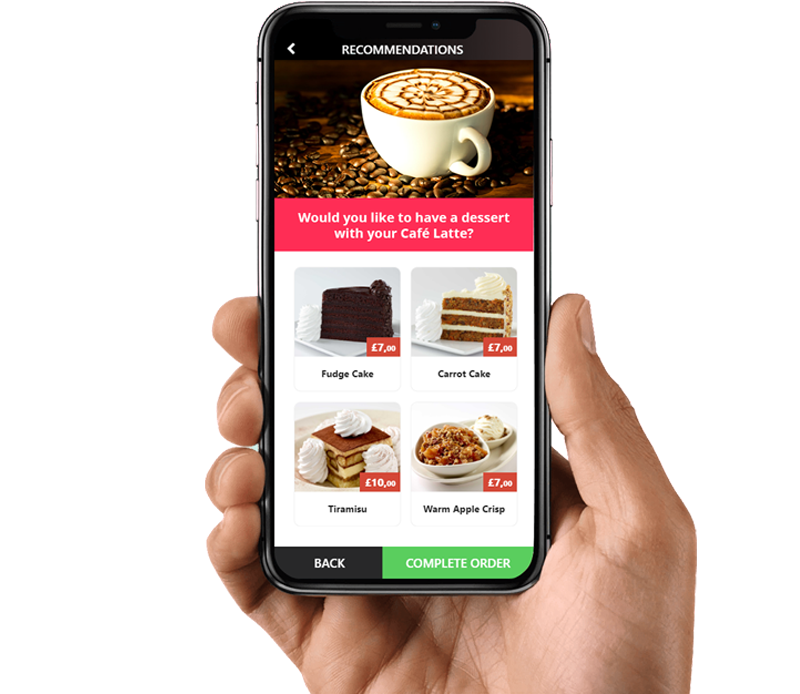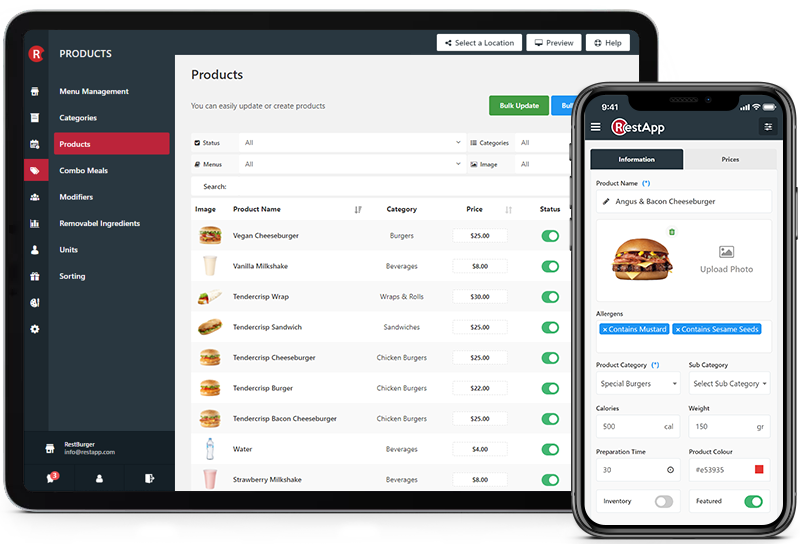 Enhanced Product Management
Unlimited possibilities for your products
You can easily create single products or menu combinations, assign modifiers, ingredients, portions, display times and different prices.
Discover Product Management Features
Multi Location
Different products or prices for locations
Modifiers
Unlimited modifier possibilities for products
Combo Menu
Menu combinations from different products
Bulk Actions
Create or update products easily with Excel
Suggestions
Suggest products for your customers
Promotions
Offer promotions when adding a product
Schedule
Display products on special hours or days
Inventory
Set inventory for pause selling when finished
Collect Guests Feedbacks
Keep an eye on your guests experiences
Improve customer satisfaction by knowing their experiences. You will be notified instantly when you have a new feedback, so you can act instantly.
Discover Online Customer Feedbacks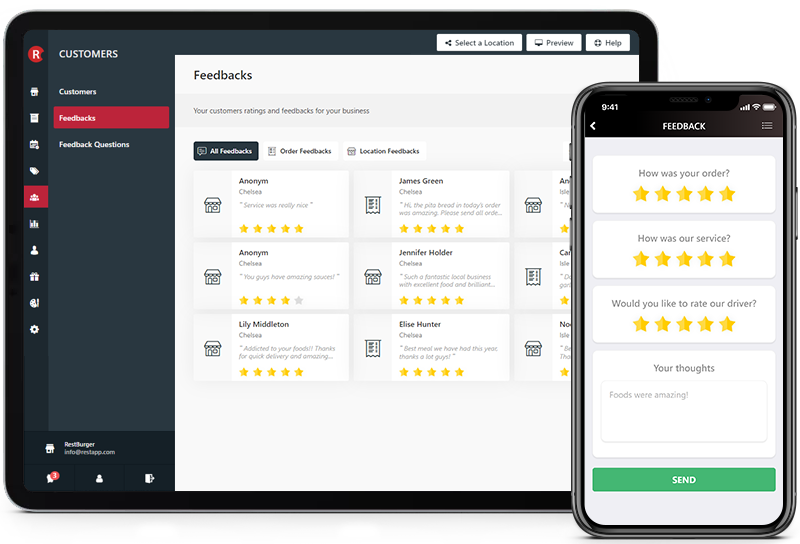 Custom Questions
Create custom questions or surveys
Opt-in Marketing
Get consent from your customers easily
Simple CRM
Get detailed insights about your customers
Multi Location
You can keep an eye on all locations at once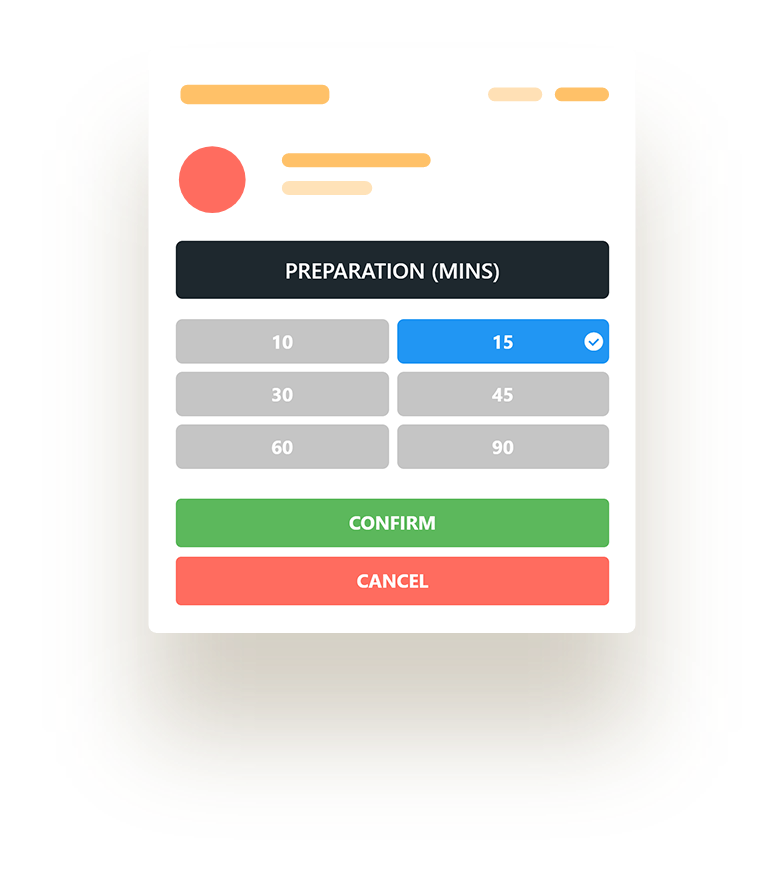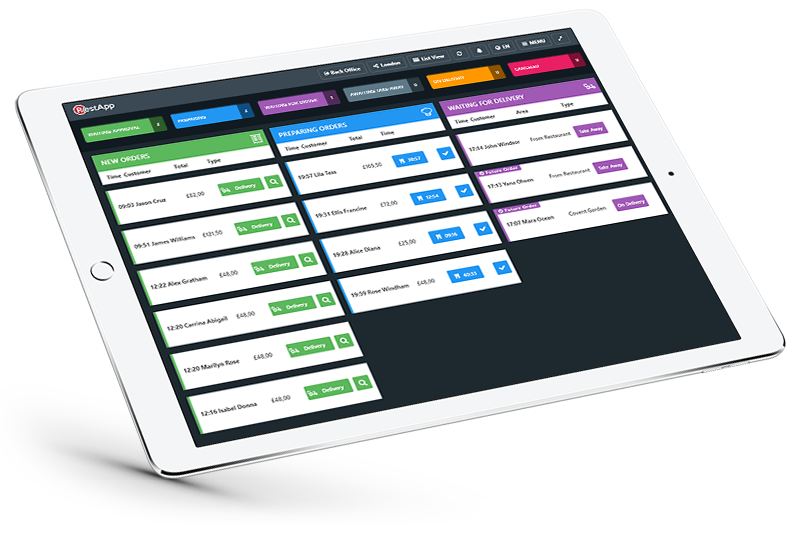 It's so Easy to Manage
Receive and confirm orders from any device
You can use any tablet, notebook or smart phone to accept online food orders. No need any specific device or printer to start.
Discover RestApp Dashboard
Cloud Print
Print order details easily by wireless printer
Order Notifications
Notify customer when preparing or on the way
Tables & Areas
You can easily create ares and tables
Busy Hour?
You can easily change ordering status
Edit Orders
You can easily edit orders for any changes
Waiter Calls
You can receive waiter calls from your guests
Bill Request
You can receive bill requests from customers
API Integration
Integrate your orders with your POS system
Ready to see more?
Need an online ordering system for your restaurant to receive online food orders? Check out all Online Ordering features, or start a free trial to see more on action
Need your own Dine-in Ordering system, but still got questions?
We are ready to offer the best tools for online success of your business. Get in touch with us now for your questions.
Talk with us