Online Ordering System for All Businesses
Most enhanced Online Ordering system around the world.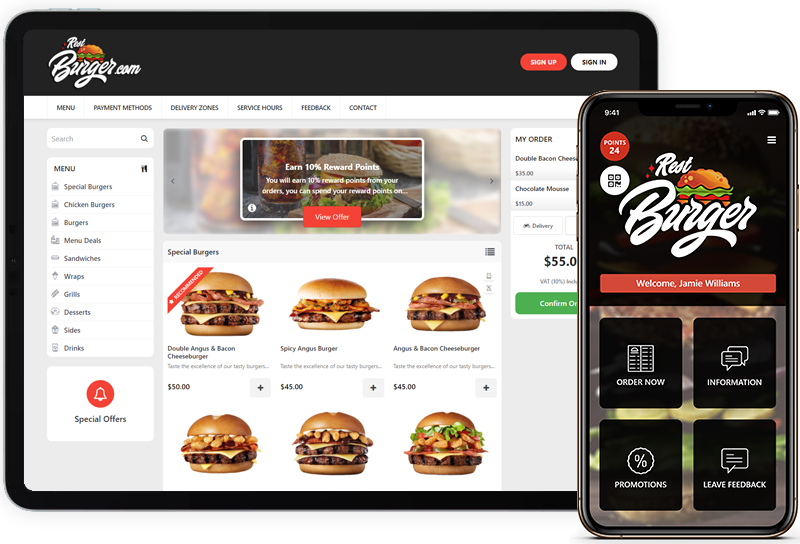 Your Own Online Ordering System
Commission-free Online Ordering System
Let your customers order directly from your own perfectly mobile optimized website without any hidden fees or commissions.
Check out Online Ordering Samples
Easy to Manage
Create and modify your products so easily
Commission-Free
No any commissions or hidden fees
Your Brand
Website, mobile site and apps with your name
Unlimited Possibilities
Have a complicated menu? No worries!
Different Ordering Types
Offer all types of online ordering to customers
Your customers can place orders for delivery, pickup (click & collect) or even dine-in from their tables. You only need one system for all ordering types.
Discover All Online Ordering Types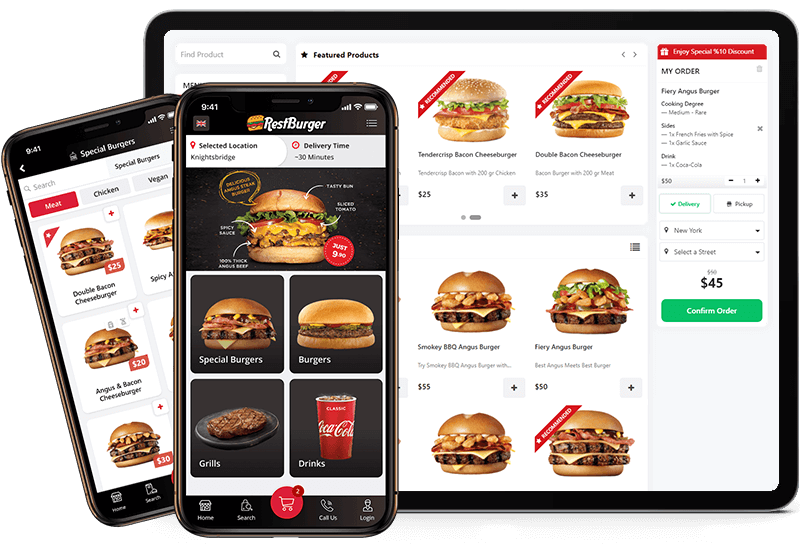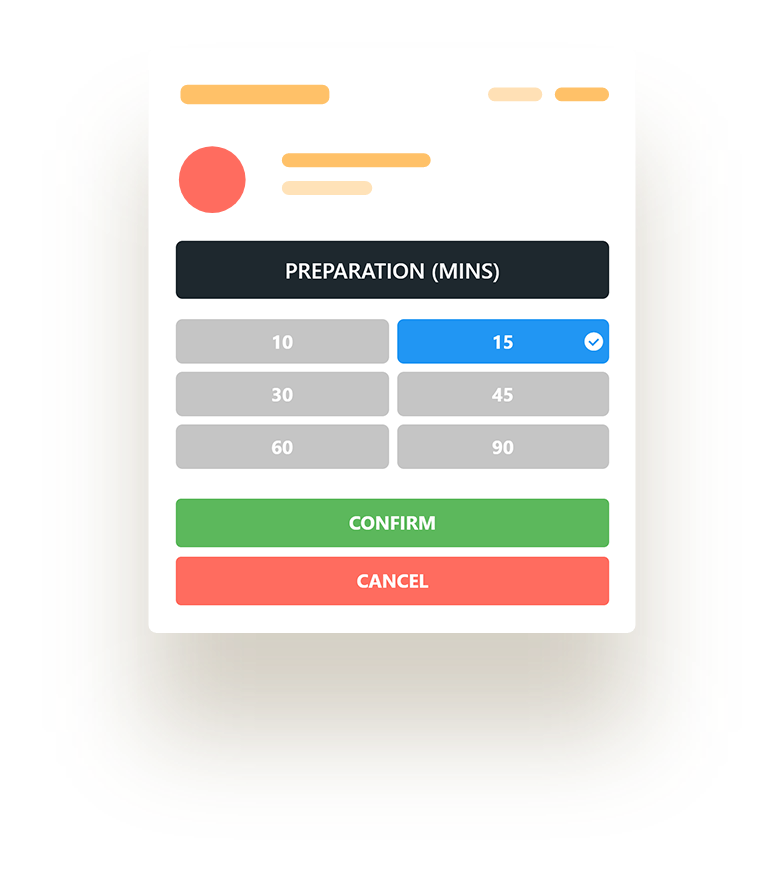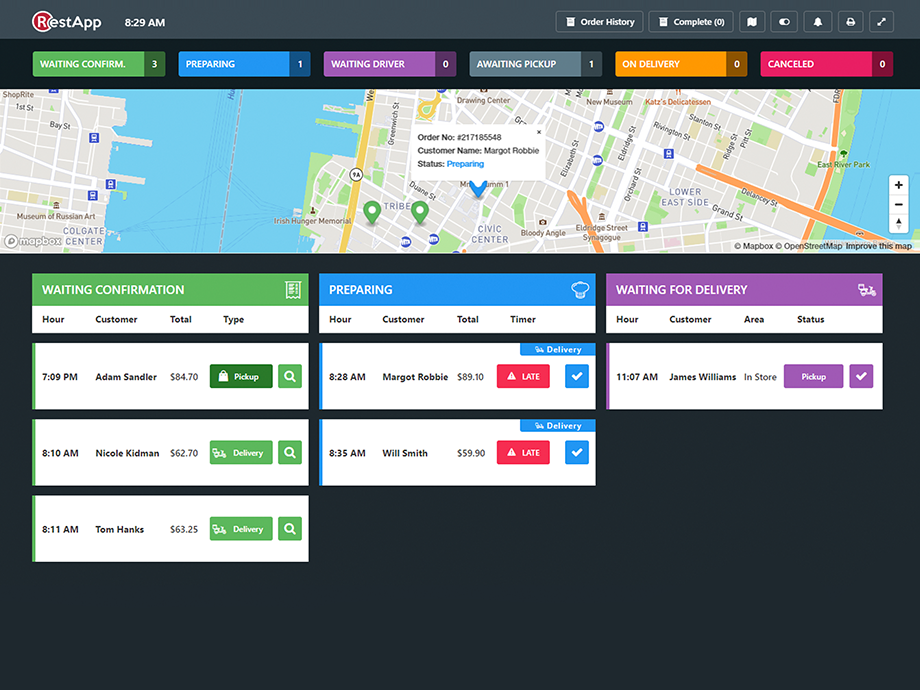 It's so Easy to Receive Orders
Receive and confirm orders with any device
You can use any PC, tablet or even a smart phone to accept online orders. No need for any specific device or printers to start with.
Discover Order Taking Features
Cloud Print
Print order details easily by wireless printer
Order Notifications
Notify customer when preparing or on the way
Get Notified
RestApp warns you if you have awaiting order
Caller-ID
Create orders manually by selecting customers
Edit Orders
You can easily edit orders for any changes
Busy Hour?
You can easily change ordering status
View on Map
You can see all of your orders on the map
API Integration
Integrate your orders with your POS system
Easy to Use Dashboard
Easily manage your Online Ordering System
Easy to use advanced management tools with detailed reports for growing your online orders with more accurate decisions.
Discover RestApp Dashboard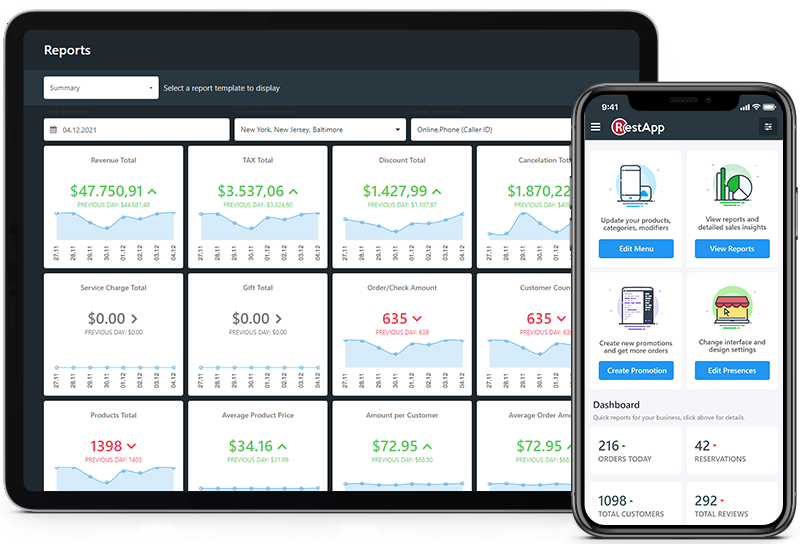 All Devices
Manage easily with any PC, Mac, phone or tablet
Detailed Reports
All reports and insights you will ever need
Multi User
Create users and roles for your staff
User Friendly
So easy to use and learn on first use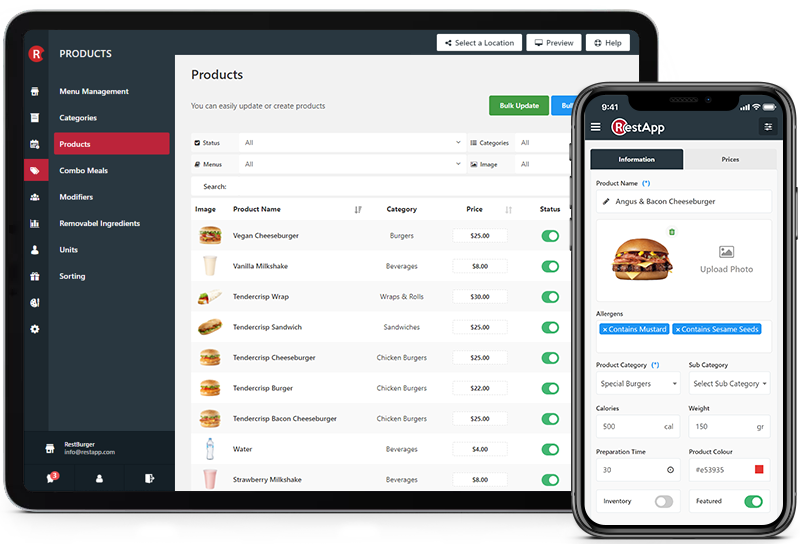 Enhanced Product Management
Unlimited possibilities for your products
You can easily create single products or menu combinations, assign modifiers, ingredients, portions, display times and different prices.
Discover Product Management Features
Multi Location
Different products or prices for locations
Modifiers
Unlimited modifier possibilities for products
Combo Menu
Menu combinations from different products
Bulk Actions
Create or update products easily with Excel
Suggestions
Suggest products for your customers
Promotions
Offer promotions when adding a product
Schedule
Display products on special hours or days
Inventory
Set inventory for pause selling when finished
Flexible Delivery Zones
Most accurate delivery zone settings
You can easily draw different delivery zones and set minimum order amounts, delivery fees, estimated delivery times for each.
Discover Delivery Zone Management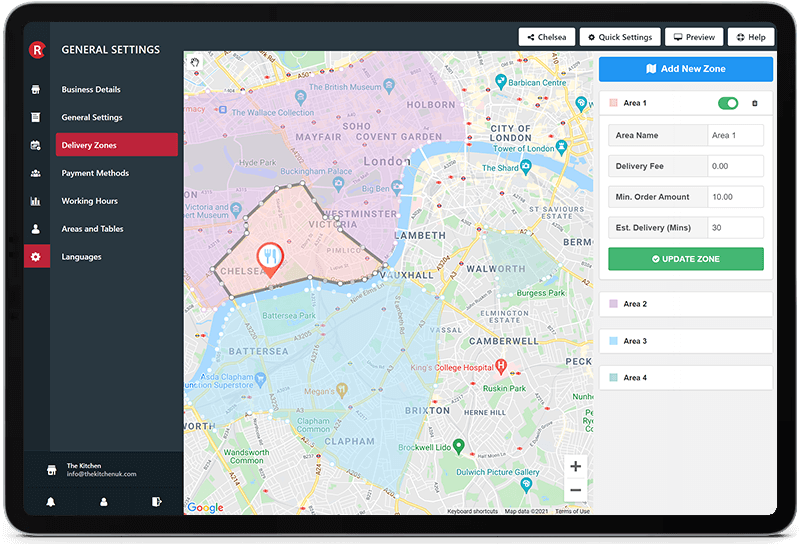 Multi Zone
Create multiple zones and set different conditions
Minimum Order
Set minimum ordering amount for each zone
Delivery Fee
You can apply delivery fees for long distances
Estimated Times
Set estimated delivery times for each zone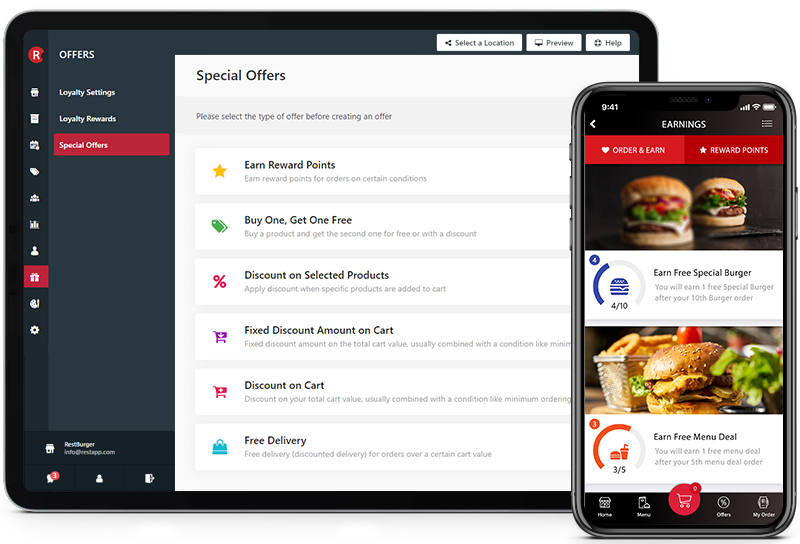 Loyalty Rewards and Special Offers
Drive more orders by using Loyalty and Offers
Increase your revenue by creating special offers and also loyalty rewards for your customers. Simple to create, easy to benefit.
Discover Loyalty & Offers Feature
Loyalty Rewards
Offer spendable reward points for orders
Special Discounts
Offer special discounts on defined conditions
Free Products
Offer free products for certain conditions
Coupon Codes
Give custom codes with special offers
Customer Feedbacks & CRM
Know your customers and their experiences
Improve customer satisfaction by hearing from them. You can get instant actions with instant feedback notifications from your customers.
Discover Customer Feedbacks Feature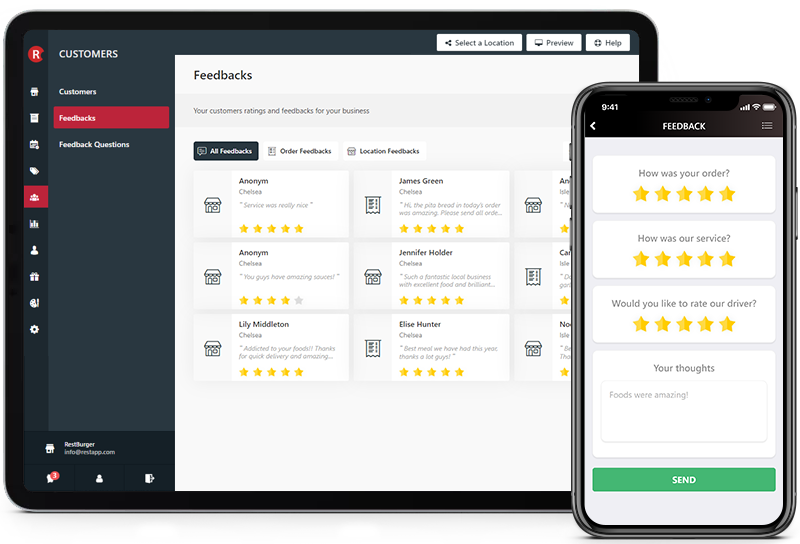 Feedbacks
Get feedbacks about orders or location
Custom Questions
Create custom questions or surveys
Opt-in Marketing
Get consent from your customers easily
Customer Reports
Get insights about your customers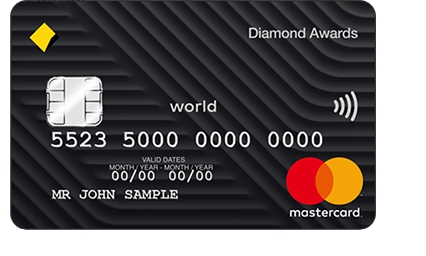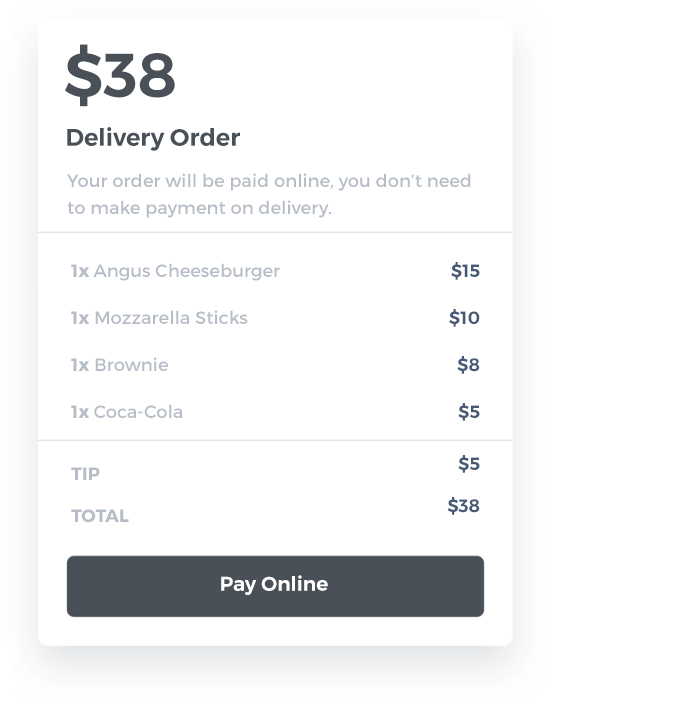 Get Paid Online
Online Ordering System with Online Payments
Accept online payments with your own payment gateway account. No more hidden fees or commissions unlike other platforms.
Discover Online Payments Feature
Your Account
Integrate & use your own payment gateway
Anti Fraud
Advanced inspecting for fraudulent transactions
Secure Wallet
Your customers can save their cards securely
Auto Refund
You can refund payments for canceled orders
Tips
Let your customer add tips with payments
Location Based
Define different gateways to different locations
Contactless Delivery
Contactless delivery option for paid orders
No Disruptions
Auto payment controls for disrupted payments
Integrations and API Support
Online Ordering System with API & Integrations
Your orders can be directly integrated to your sales system by using our well documented public API's, or integration partners.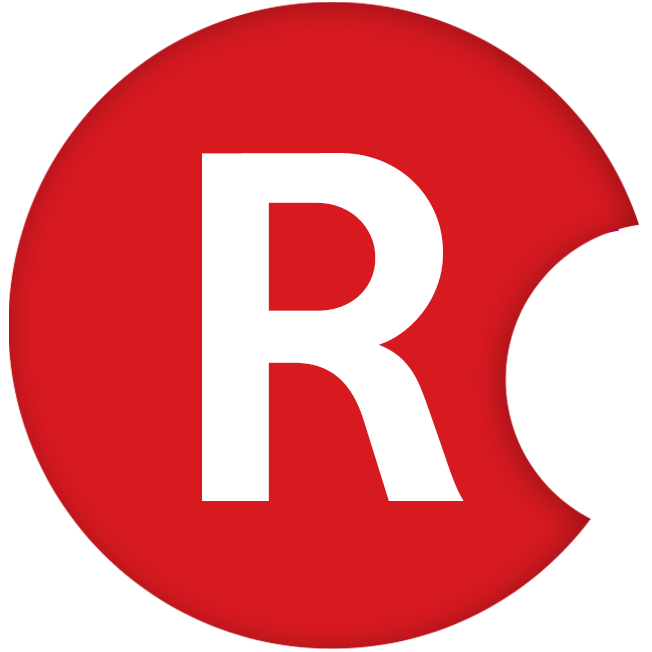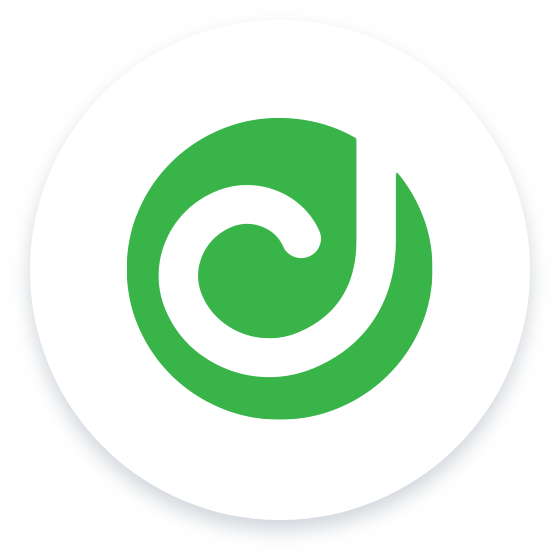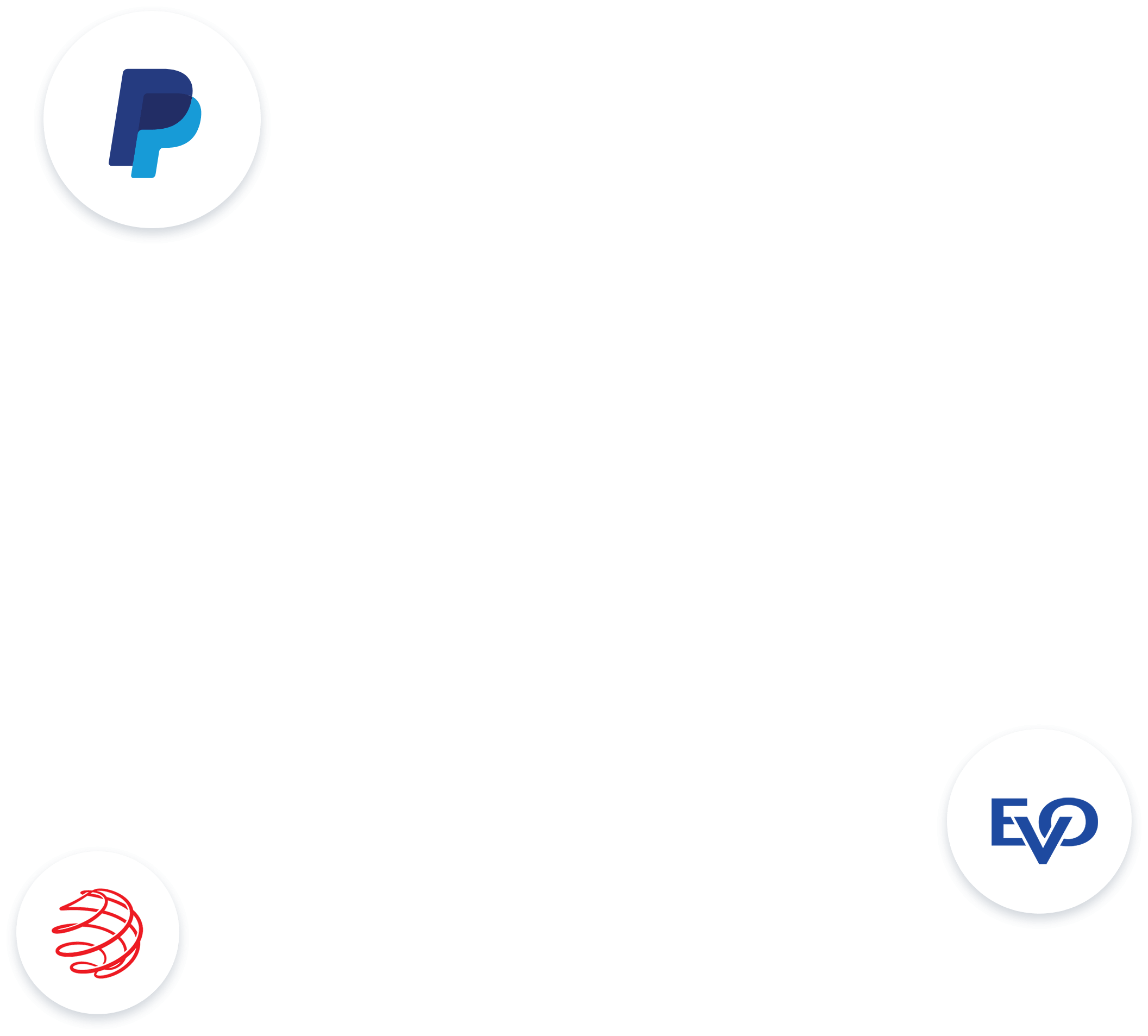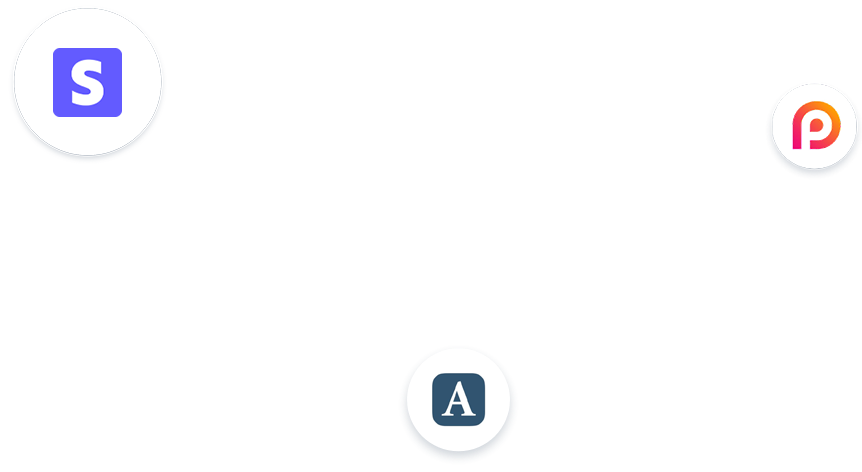 That's cool! But why my own online ordering system?
Customers tend to order directly from your own online ordering system instead of using other platforms.
You are generating new customers and orders by using third party online ordering platforms like Just-Eat, DoorDash, Deliveroo and others without a doubt. But on the other hand you are also losing lots of commission fees and your business is listed with many other competitors in same page.
Reduce your costs and stop losing money especially from orders of your own customers. Offer your customers rewards and conditional discounts by using your own online ordering system. They will order place more orders from your own online ordering system compared to other platforms, and your costs will reduce significantly. You can also gain new customers from your area with RestApp's great marketing tools.
Cost of Online Orders
Try Now
Online Orders compared to previous years
of Online Orders placed over smart phones
Online Orders are being placed each day
People placing their orders online
of online orders placed by ages under 21
of your orders will come from your site
Need your own online ordering system, but still got questions?
We are commited to offer the best online ordering system and support for your business. Get in touch with us now for any questions.
Talk with us