Commission-free Online Pizza Ordering System
Online Delivery & Pickup Ordering System for Pizzerias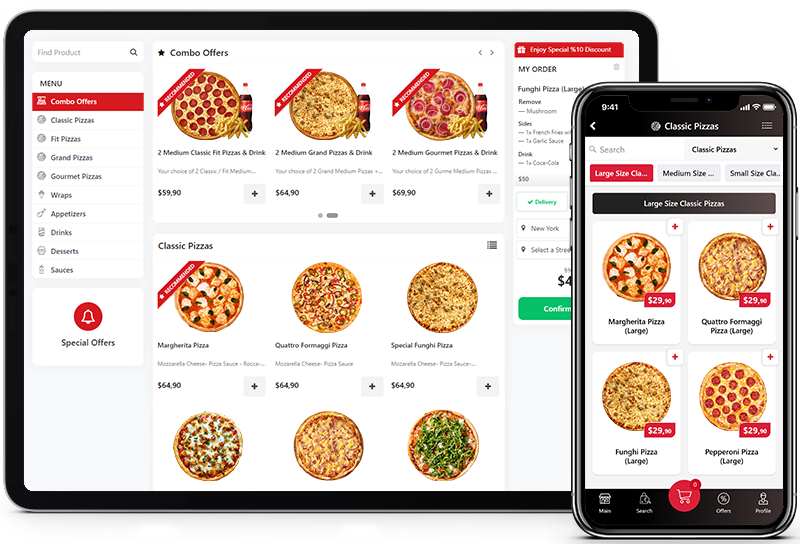 #1 Online Pizza Ordering System
Receive commission-free online pizza orders
Are you looking for a commission-free online ordering system for your pizzeria? RestApp is the most enhanced online pizza ordering system.
Discover All Features
Easy to Manage
Create and modify your products so easily
Commission-Free
No any commissions or hidden fees
Your Brand
Website, mobile site and apps with your name
Unlimited Possibilities
Slices, combo menus with all modifiers
All Online Ordering Types
You can take orders with different methods
You can offer all kind of ordering types to your customers like delivery, pickup (take-away), dine-in, drive-thru, curbside and self ordering.
Check out all ordering types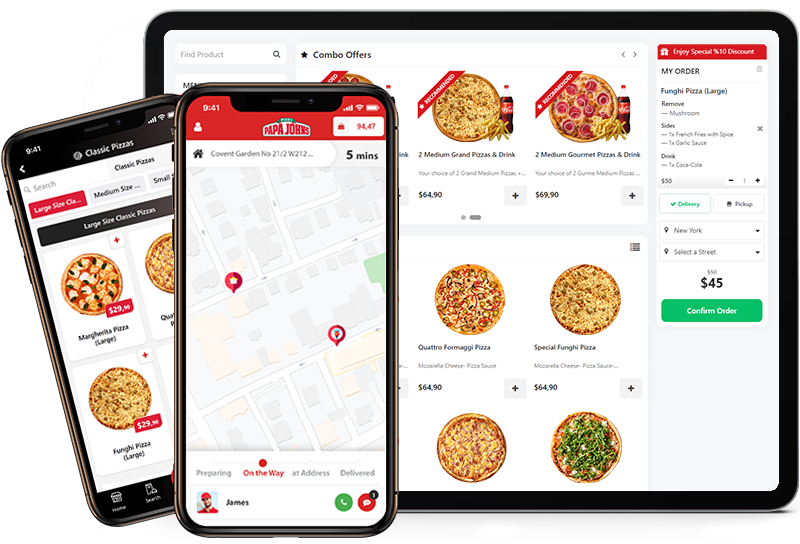 For Delivery
Receive delivery orders from your customers
For Pickup
Your customers can order and pickup when ready
For Dine-in
Customers can place orders from their tables
From Phone
You can create manual orders with caller-id
Self-Ordering
Smart phones instead of ordering kiosks
Drive-Thru
Customers can order and pick-up with their rides
Curbside
You can deliver orders to customers cars
Future-Ready
No worries! we'll adapt all future trends for you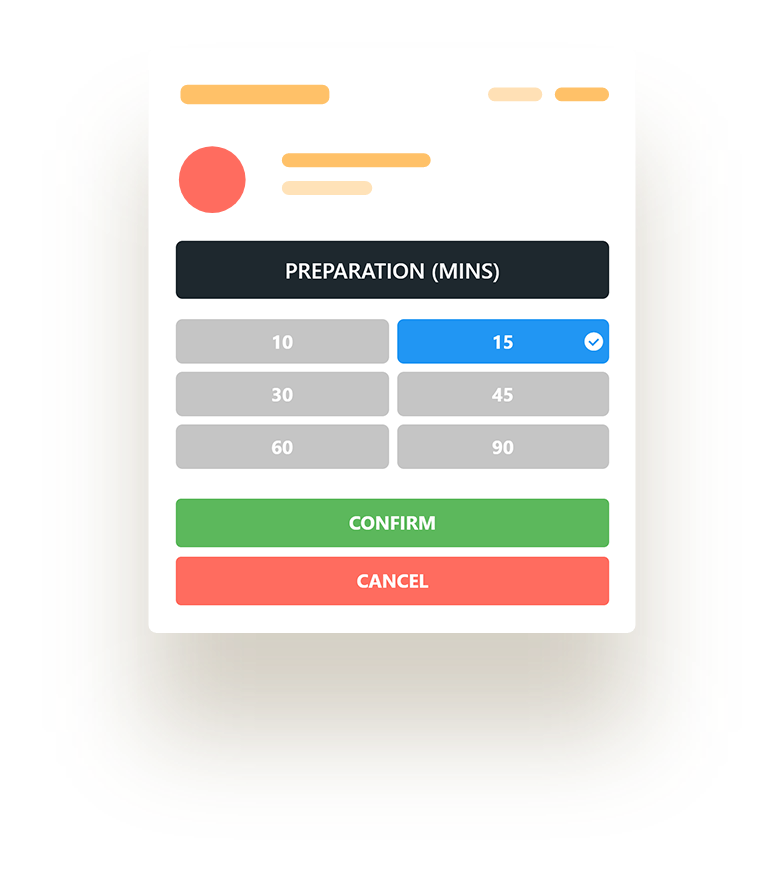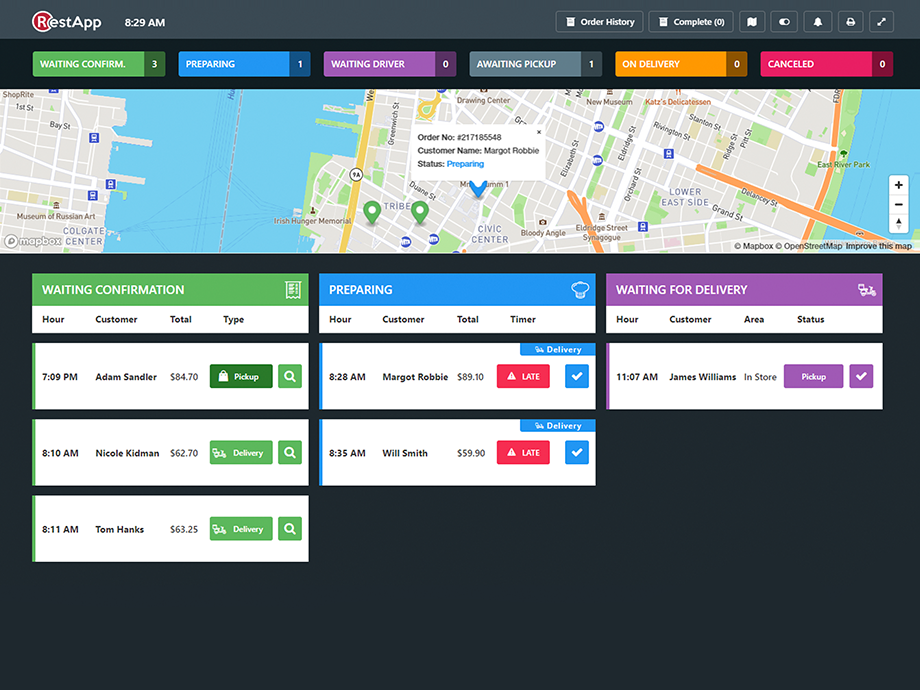 Easy to Receive Orders
Receive and confirm orders with any device
You can use any PC, Mac, notebook, tablet or smart phone to accept online pizza orders. No need any specific device or printer to start.
Learn more about RestApp Dashboard
Cloud Print
Print order details easily by wireless printer
Order Notifications
Notify customer when preparing or on the way
Get Notified
RestApp warns you if you have awaiting order
Caller-ID
Create orders manually by selecting customers
Edit Orders
You can easily edit orders for any changes
Busy Hour?
You can easily change ordering status
View on Map
You can see all of your orders on the map
API Integration
Integrate your orders with your POS system
Easy to Manage
Manage your pizzeria easily, anywhere
Easy to use restaurant management dashboard and enhanced reports for growing your restaurants online pizza orders.
Learn more about dashboard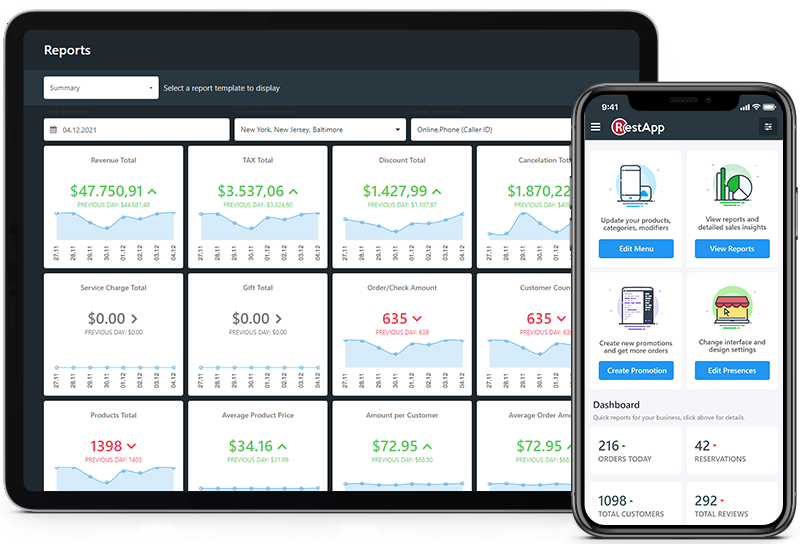 All Devices
Manage easily with any PC, Mac, phone or tablet
Detailed Reports
All reports and insights you will ever need
Multi User
Create users and roles for your staff
User Friendly
So easy to use and learn on first use
Ready to see more?
Need an online ordering system for your pizza restaurant to receive online orders? Check out all Online Ordering features, or start a free trial to see more on action
Say hello to the most advanced Online Pizza Ordering solution ever!
We are ready to offer the best tools for online success of your restaurant. Get in touch with us now for your questions.
Talk with us