Improve your Online Ordering experience with RestApp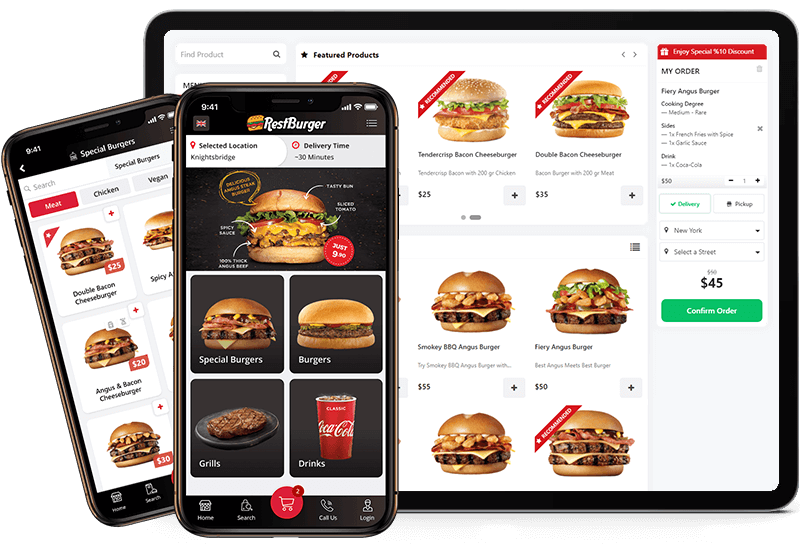 Better & Affordable Online Ordering
Looking for an affordable ChowNow alternative?
It's also commission-free, but why paying hundreds of dollars in monthly fees? Here is why RestApp is the preferred and much more affordable choice for thousands of restaurants.
RestApp vs ChowNow Comparison
Easy to Use
Create your menu and take orders easily
Commission-free
No any hidden fees or commissions
Your Brand
Website, mobile site and apps for your brand
Unlimited Possibilities
Have a complicated menu? No worries!
Why RestApp? Compared to ChowNow
Find out details about the ChowNow fees and reasons to chose RestApp instead of ChowNow.
You can try RestApp online ordering for free
RestApp offers best features with most affordable prices
RestApp offers your own online ordering platform with all features from $29 to $59 per month
ChowNow fees for using their online ordering platform starts from $99 to $149 per month
RestApp has no any additional fees like setup fee
ChowNow charges you between $199 and $399 setup fee for each location
RestApp has no binding cancellation policies
We don't have any binding cancellation policy. You can use RestApp online ordering system for as long as you want, and cancel anytime. No strings attached.
In order to cancel your ChowNow online ordering subscription, you must wait for a cancellation form and you have to fill out that form which is followed by a consultation call with ChowNow.
RestApp offers unlimited orders with 0% commissions
You can create flexible and unlimited products with RestApp
Customers can make reservations online
RestApp Online Ordering offers free and unlimited online table reservations.
24/7 Customer support for any questions or issues
24/7 WhatsApp & E-Mail Support
Your own easy to manage, fully functional website
Your own online ordering platform with your domain
Your own iOS & Android mobile applications
You can take orders from any smart device with RestApp
Your own PC, Mac, smartphone or tablet is all you need to start taking online orders.
You need to use a special ChowNow device for taking online orders.
Your guests can scan QR on tables and place orders
Create orders for your customers with Caller-ID integration
Your customers can place order for future days or times
Let your customers select between your available time ranges for delivery
Collect online payments from your customers online orders
RestApp offers integration with major payment providers, you can use your own payment gateway
ChowNow will not let you use your own online payment provider
Loyalty rewards, special offers for your customers
Loyalty rewards and special offer templates are offered for free with RestApp
ChowNow offers marketing featues with additional cost between $39 - $349
Hear from your customers for improving your service
Your customers can place their orders without waiting for a line
Ready to see more?
RestApp is by far the best and most affordable ChowNow alternative on the market. Start using RestApp online ordering system for your restaurant to receive online food orders. Discover more or start a free trial to see more on action.
Say hello to the most advanced Online Ordering system!
We are ready to offer the best tools for online success of your business. Get in touch with us now for your questions.
Talk with us