Easy to Manage Cloud Dashboard
Manage your business and receive orders easily.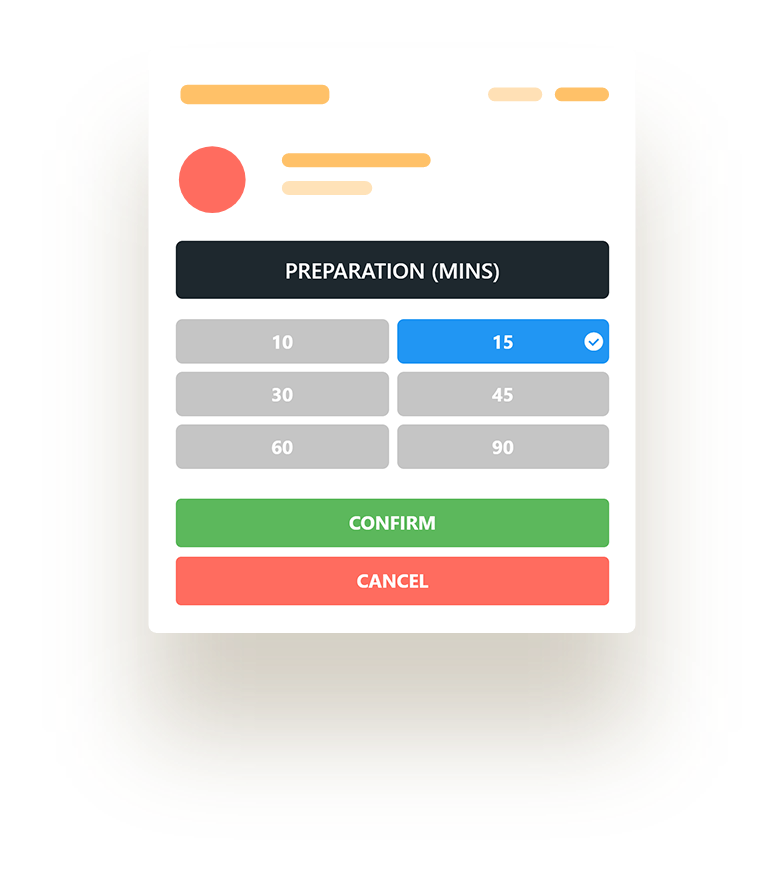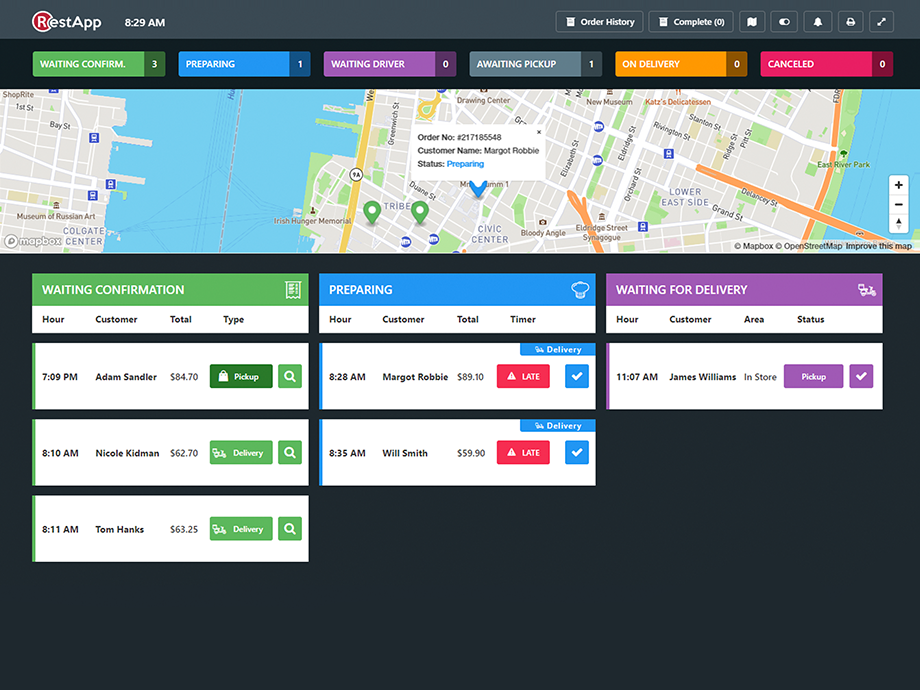 It's so Easy to Manage
Receive and confirm orders from any device
You can use any tablet, notebook or smart phone to accept online orders. No need any specific device or printer to start.
Discover All Online Ordering Features
Cloud Print
Print order details easily by wireless printer
Order Notifications
Notify customer when preparing or on the way
Get Notified
RestApp warns you if you have awaiting order
Caller-ID
Create orders manually by selecting customers
Edit Orders
You can easily edit orders for any changes
Busy Hour?
You can easily change ordering status
View on Map
You can see all of your orders on the map
API Integration
Integrate your orders with your POS system
Easy to Use Dashboard
Manage your business easily, anywhere
Advanced yet simple management tools and reports for growing your online operation with more accurate decisions.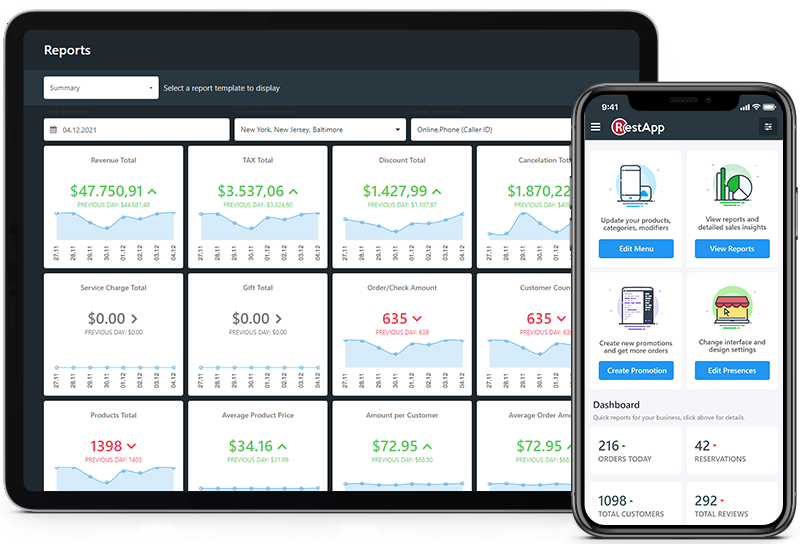 All Devices
Manage easily with any PC, Mac, phone or tablet
Detailed Reports
All reports and insights you will ever need
Multi User
Create users and roles for your staff
User Friendly
So easy to use and learn on first use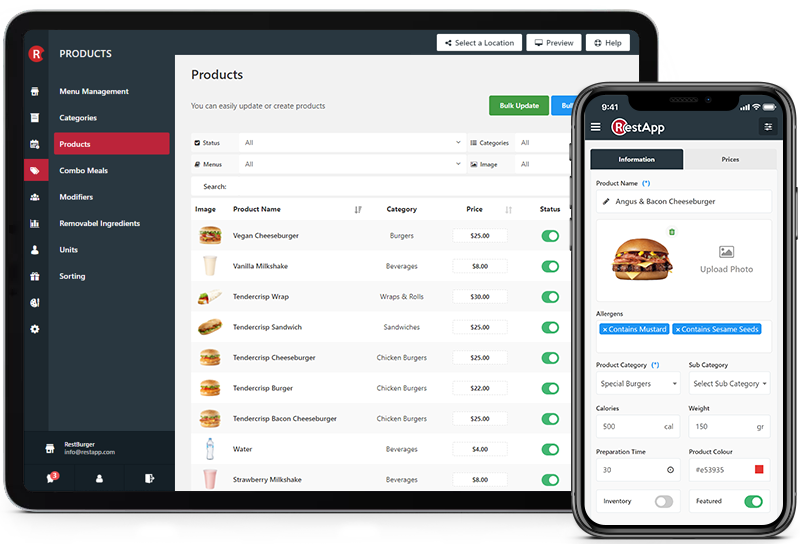 Enhanced Product Management
Unlimited possibilities for your products
You can easily create single products or menu combinations, assign modifiers, ingredients, portions, display times and different prices.
Discover Product Management Features
Multi Location
Different products or prices for locations
Modifiers
Unlimited modifier possibilities for products
Combo Menu
Menu combinations from different products
Bulk Actions
Create or update products easily with Excel
Suggestions
Suggest products for your customers
Promotions
Offer promotions when adding a product
Schedule
Display products on special hours or days
Inventory
Set inventory for pause selling when finished
Customer Feedbacks & CRM
Know your customers and their experiences
Improve customer satisfaction by hearing from them. You can get instant actions with instant feedback notifications from your customers.
Discover Online Customer Feedbacks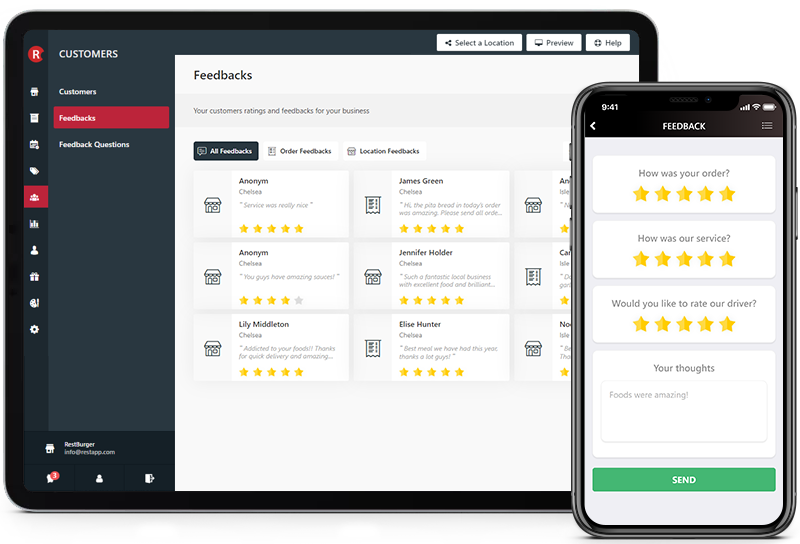 Feedbacks
Get feedbacks about orders or location
Custom Questions
Create custom questions or surveys
Opt-in Marketing
Get consent from your customers easily
Customer Reports
Get insights about your customers
Need your own online ordering system, but still got questions?
We are ready to offer the best tools for online success of your business. Get in touch with us now for your questions.
Talk with us